SOFiA Coordinate System
SOFiA is based on a spherical coordinate system as follows:
AZ denotes the azimutal angle in a range of (0-2pi(. Whereas AZ=0 is defined to be the front direction and AZ=pi to be the rear direction.
EL denotes the elevation angle in a range of (0-pi). EL=0 points upwards, EL=pi/2 points to the horizontal plane and EL=pi points downwards.
All angles are in RAD.
r is the radius in meters (if needed/specified).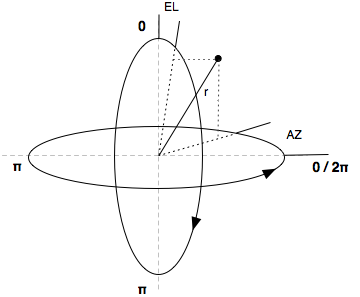 EXAMPLE
14-Point Lebedev Grid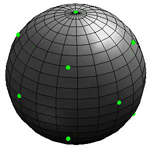 | AZ | EL |
| --- | --- |
| 0.0000 | 0.0000 |
| 0.0000 | 1.5708 |
| 0.0000 | 3.1416 |
| 0.7854 | 2.1863 |
| 0.7854 | 0.9553 |
| 1.5708 | 1.5708 |
| 2.3562 | 2.1863 |
| 2.3562 | 0.9553 |
| 3.1416 | 1.5708 |
| 3.9270 | 2.1863 |
| 3.9270 | 0.9553 |
| 4.7124 | 1.5708 |
| 5.4978 | 2.1863 |
| 5.4978 | 0.9553 |